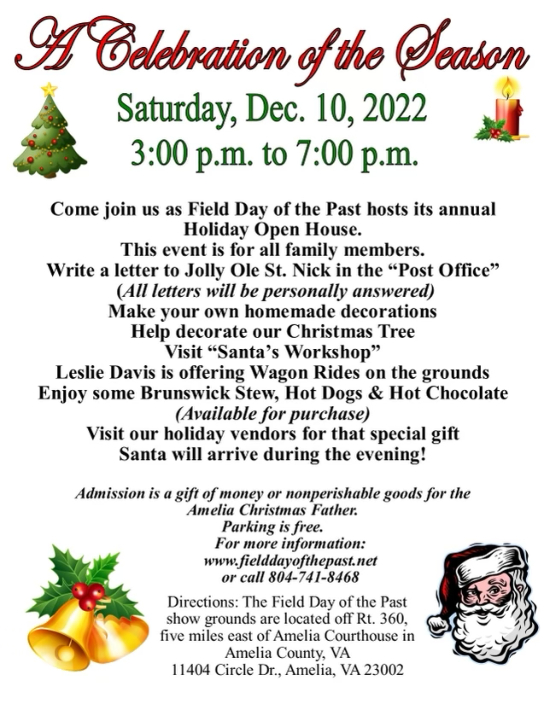 Truck and Tractor Pulls on a NEW Track, Car Shows, Historic Displays, Heritage Area, Music, Antique Machinery, Sawmill, Arts & Crafts, Music, Carnival Rides & Games, Gold Panning Demos, 4-H Rabbit Show, Petting Zoo, Mechanical Bull, Educational Exhibits, Pony Rides, WWII Vehicle Display, Wild West Show, Antique Tractors & Small Engines, Horseshoe Pitch & Cornhole Tournaments, Consignment Sale, Woodcarving, 1849 Pioneer Camp, Virginia High School Rodeo, Church Service on Sunday & More!
Alcoholic Beverages are not Permitted on the Grounds during the Field Day of the Past event.
Thank You to Our Sponsors:
Absolute Weddings & Events: Amelia, VA
Agri-Supply: Petersburg, VA
AIM Excavating & Landscaping: Crewe, VA
Buggy Tops LLC: Prospect, VA
Carter Tractor: Crewe, VA
Carter Machinery: Salem, VA
Chesterfield Hitch: Midlothian, VA
Countryside Trailers: VA
Colonial Truck Sales: Ashland, VA
Commonwealth Real Estate Co: Amelia Courthouse, VA
Containers Local: Mechanicsville, VA
Crewe Tractor: Crewe, VA
D.C. Tire: Amelia, VA
Driven Mobile Automotive & Small Engine Repair, LLC: Jetersville, VA
Excel Truck Group: Chester, VA
Goodman Truck & Tractor Co, Inc: Amelia, VA
Integrity Real Estate: Amelia, VA
Leaf Gaurd: Roanoke, VA
Loman Electrical Contractor: Richmond, VA
M&M Tractor & Auto Parts: Montpelier, VA
Pressure Works: Hampton, VA
Pure Water Solutions of Virginia: Chesterfield, Va.
Richmond Window Corp: Richmond, VA
Riverside Hydraulics: Ashland, VA
S.B. Cox Ready Mix, Inc: Richmond, VA
S.B. Cox, Inc: Richmond, VA
Southside Electric Corp.
Tiger Equipment Co, Inc: Ashland. VA
Torch Clean Energy: Charlottesville, VA
Truck Enterprises: Richmond, VA
Ultimate Cycle: Powhatan, VA
Please check back frequently for new information, articles, and musings about Field Day of the Past and our community. If you have something you would like us to post in our blog, please contact us below.
Interested in hearing more about Field Day of the Past? Join our newsletter to stay up to date with events, projects, and more!