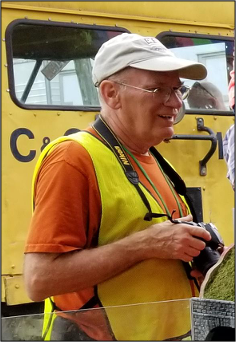 GARY COWARDIN – From Summer, 2019 Field Day of the Past
After 27 years, Field Day of the Past holds a lot of memories, encapsulated in souvenirs, old posters and flyers, and photographs. It is Gary Cowardin (and his son Thanh Cao) who is responsible for taking most of those photographs. For more than a decade it has fallen to Cowardin to capture moments from not only the annual show, but events such as the holiday gathering, school field trips, and volunteer events. But Cowardin didn't come to the first Field Day meeting with the intention of being our "official" photographer.
"I started out just visiting Field Day of the Past the first or second year," Cowardin said. "I attended with a friend and realized there were places I could help and have fun playing with the many boy toys. I also realized there were places where I could supply knowledge and help."
Cowardin met Will Adams, who was then in charge of sound for the track and other activities during the show. Adams asked Cowardin for help and the new volunteer took over the track sound and eventually the entire sound system for the grounds.
"I added some speakers on a crane aimed back toward the main gate and buried my first cable between the announcer's area and the crane with the help of Bill Enos and Thanh. We used a new Bobcat cable burying machine which had only 1.2 hours of use on it when we started," Cowardin said.
From working on the sound system, Cowardin moved into other areas. His expertise in so many fields comes from the varied interests he pursued in his youth and through his work, both in the Marine Corps and in civilian life.
Cowardin's list of hobbies is almost limitless and includes projection, astronomy, pipe organs, aquariums, theatres, movies, lighting, sound, all other electronics, and computers. He also is interested in all types of engines and motors, many branches of science and history with a special interest in the Civil War and, of course, time devices.
The root of many of these interests can be found in his childhood and adolescent years. Cowardin grew up in the Richmond area.  There was the first aquarium which he stocked with fish and other animals from the local creeks in Hanover where he lived as a child. In his early teens, he learned to work on small engines and built a go-cart out of wood, a wagon and pedal tractor wheels, a Jacobsen lawnmower, and garden tractor engines.
Around the age of 9, Cowardin began cutting grass, which lead to avenues of help.
"There were many friends and family that encouraged me along the way, mostly by giving me parts, old engines, and radios, a 16mm silent projector, etc.," Coward said.
Around the same time, Cowardin started working on old radios and television sets. "I built my first HiFi set in the late '50s," he said. There was also the spark gap and shortwave radio transmitter which used a clothesline as the antenna.
In Hanover, the Cowardins lived in a Civil War battle area and thus an interest in the War Between the States began. "My younger brother and I were always looking for Civil War bullets and other war-related items"  Cowardin said. He still maintains that hobby today, belonging to two Civil War clubs.
By the age of 16, Cowardin's interest expanded into the movie business. Unlike many young people, this did not mean that he wanted to become a movie star.  He had already been involved with sound and projector operation in school, so the theatre business was just the next step.
"I started working for Neighborhood Theatres where my younger brother had just started working. Over the years I did every job there was in a movie theatre including management, payroll, and cleaning."
In high school and college, Cowardin used the knowledge he had gained in the movie theatre to build speakers.
"I built a pair of LARGE (4'w x 8'h) Conner design speakers for our den, Cowardin said. "They were often in the way of the pool table ques.
Years later, this experience landed him in the center of the revitalization of the Byrd Theatre in Richmond
"I engineered the reopening of the Byrd Theatre booth operations, sound, and picture. I set up the first Byrd web site before any theatre in Richmond had a web presence," Cowardin said.
The money he earned from the job at Neighborhood Theatres provided income to support other hobbies such as photography, music recordings, fish, flashlight collecting, car gas for dating and working, and eating out.
Cowardin graduated from John Marshall High School in Richmond and moved on to Richmond Professional Institute (RPI, now VCU.)  Then came the draft notice, a move Cowardin described as "the best decision I never made." He served in Vietnam and ended up signing on for additional time, attending an electronics school in San Diego, CA.
After his military stint, Cowardin retired to civilian work and went to work for C&P Telephone, now Verizon, where he stayed for 32 years.
Here his horizons opened up into the computer world.
"I learned computers from the ground up, Cowardin summed up his years at the communication company. "I set up the first UNIX system sent out by Bell Labs. (Apple uses UNIX O/S now) I learned many computer languages and still use them today. At one time I managed a computer room that was a block-long loaded with many systems."
During those years he attended the Microsoft Windows Grand Startup and many computer classes, lectures, and training courses and, finally taught many related classes."
Cowardin still pursues many of those hobbies and interests which he developed in his youth. He is a member of numerous organizations including the Marine Corps League, high school monthly luncheons, Astronomy Club, and the 3D National Stereoscopic Association. He has held board positions in many of these organizations. He is also an active member of his church.
Field Day of the Past is also among the list of organizations to which Cowardin belongs. Over the years he has not only worked on the sound system and acted as a photographer, but he and his son Thanh helped outfit the Bill's Barbecue exhibit on the show grounds. It was Cowardin's idea to take a picture through the window of the restaurant's window and reproduce it for the inside of our display.
If you see that guy running around the grounds with his camera around his neck, you can be assured that Cowardin is ready and on the job.